SPARK is creative spark, evolutionary energy with an ever new artistic and technical look, SPARK was born with the fixed idea of ​​bringing more and more creativity into every design process.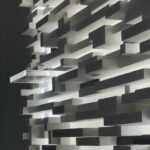 SPARK is the creation of Ciro Ruggiero, Designer and Art Director with an experience in the field of almost 30 years, which has led him to embrace areas such as fashion, design, furniture, architecture and to obtain various patents and international recognition. His extensive portfolio includes works created both nationally and internationally thanks to projects for the best brands, design studios, celebrities and public bodies.
SPARK has specific professional experiences for each sector, including design, architecture, engineering, lighting design, graphics, web design etc.
SPARK also has, as an idea, to strengthen its own production, with objects designed by itself and in synergy with other professionals, and to create consulting services with online engines and educational training meetings. Our creativity lives and wants to meet sparkling natures by breathing emotions, observing and designing innovative solutions.